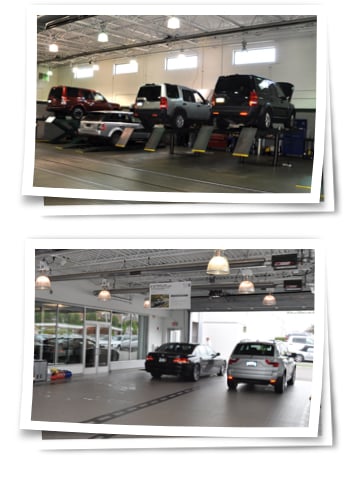 We consider our service departments to be first-rate and continually strive to provide our customers with award winning customer service. Within our service department we have positions like technicians, service advisors, loaner car coordinators, and porters/lot attendants.
Our Technicians and Service Advisors are the most highly trained professionals in the area. The Bobby Rahal Automotive Group is committed to providing our Technicians and Service Advisors with extensive education and training opportunities so they can build long-term careers and have the opportunity to advance with our organization.
Technicians at Bobby Rahal don't have to worry about crammed work spaces, hot shops, and other annoyances that don't let them enjoy their work! Our shops are air conditioned, extremely clean, and well maintained with state-of-the-art equipment.
Reconditioning techs, porters, and lot attendants continue to be a great entry level position with the Bobby Rahal Automotive Group. We focus on promoting from within and these positions have provided a start for many of our current team members.
We offer a professional working environment and a comprehensive benefit package to a full time team members including medical, dental, vision, 401(k) plus match, vacation time, and much more.
Even if you do not find an opening that you are interested in, APPLY NOW and let us know what you are looking for!